Achievements
Academic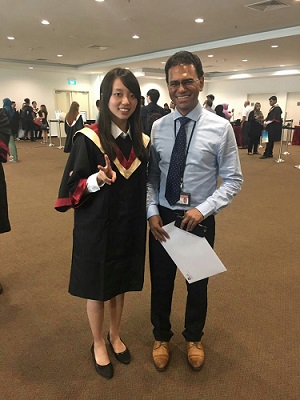 During my Higher Nitec years in ITE CW, I am motivated and decided to get a 4 pointer for GPA. I did not honestly think that I will get full GPA. However, I wanted to try out. I studied very hard, listen in class, asked my lecturers alot of questions. When exam is coming, I studied, read, understand and memorised all my notes. I got a GPA 4 pointer for my 1st term. I was super happy, although I did not voice out.
I got even more motivated, and continue studying to my best. Subsequently, I got full pointer throughout, which is a great achievement for me. I am really thankful for those to help me out.
I took a picture with my class advisor during Graduation Ceremony. Yay!~
Personal
To be honest, I am an introvert and quiet person. However, with all those years I went through, I talk more, and able to say out my opinion, and express my feelings.
In addition, I talked to my family and friends more. I feel truely bless being around with them.
This website is not near to perfection. My e-mail address is at the footer, do e-mail your opinions of my website for improvisation.